Good morning all.
Middle child appears to have gone back to Edinburgh leaving his sore throat behind...just what I needed when I'm going out for lunch with a friend!!
It's time for another challenge over at
CCWS
and we hope you're playing along with us this year and stocking up on those Christmas cards and projects. It's the turn of the Snow Angels to inspire you this week and Christina has designed the sketch. We are being sponsored by
Crealing
.
The image is a digi which I've had printed out for ages and I can't for the life of me remember who it is from
(please let me know if you recognise it);
* Thanks Wilma...the image is from Robyn's Fetish and is called
Paul Penguin sleighing
*
I've coloured it with promarkers although I'm not happy with the end result as the batch of card I'm using at present bleeds horribly even though it's meant for promarkers. Papers were loose ones from my stash, dies from Spellbinders and Marianne Design, tag, stars and gems from my stash.
Despite all the layers this is still a thin card and hopefully will go ordinary post.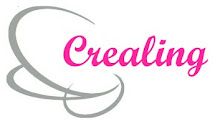 You will have to pop over to the challenge blog to see the sketch for yourself, remember to check out