Good morning all.
I managed to get most of the decorations up yesterday but what is with men?? I asked for everything to be got out of the loft...1st shift I got about 6 boxes each containing one item....2nd shift several hours later was a box and a bag...3rd shift was just hard work and I'm sure we still don't have everything yet! Nobody will listen to me and sort the loft so all the Christmas stuff stays together so we have this problem every year....sigh!
Sharing a second card as a Guest Designer at
The Joanna Sheen Challenge
blog. The month long challenge is to "Make it Sparkle". Fabulous goodies can be found on the wobbly shelves at Joanna's
online
shop
It's also time for our next challenge over at the Christmas Card Club, it was Sue's turn to choose the theme this time and she's asked us to "Get your skates on ...it'll soon be Christmas!". Here is my card made to cover both:
Using a gorgeous snowy Thomas Kinkade image from Joanna Sheen printed onto artists canvas, simply matted and layered. Ribbon, brad and sentiment from my stash; snowflake die from Spellbinders. Lots of glamour dust and stickles to add some sparkle.
I really must get my CD's out more often...the cards are so quick and easy to make....it's choosing the image to use that takes forever lol!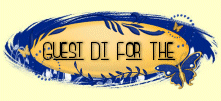 You'll find the rest of the girls listed on my sidebar if you'd like to pop over and see their creations.
Challenges entered:
CHNC
- whatever is urgent
Carol x