Good morning all.
Managed to finish the wedding invites last week and got them delivered at the weekend when I went down home for the hen day....a day at Matfen Hall Spa followed by a meal once we arrived back home. A very relaxing day was had with a lovely lunch included. As we had an early start and late finish I spent two nights staying with my sister, hence I'm now trying to play catch up with house work, laundry and card making! Hopefully I'll catch up with everyone's blogs very soon.
It's time for another challenge over at
CCWS
and we hope you're playing along with us this year and stocking up on those Christmas cards and projects. It's the turn of the Snow Angels to inspire you this week and Miranda designed the sketch. We are being sponsored by Bugaboo who gave the DT images to use.
I've used Little Penguin Winter - winter bench, coloured with promarkers and highlighted with glamour dust. Dies are from Spellbinders, papers are from Dovecraft and sentiment, pearl and cobweb fibre are from my stash. This card was made in a hurry and as I was adding the glamour dust I realised the image was sideways on...luckily it's on small foam pads and lifted off without causing any damage!!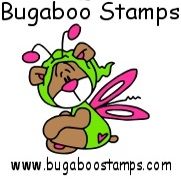 You will have to pop over to the challenge blog to see the sketch for yourself, remember to check out